Direct Mail-Repair/Custom
Marketing Repairs and Custom Design to your customers
Looking for ways to draw more profitable traffic into your store? Look no longer.
Direct mail to your customer list is one of the most cost efficient ways to get more money into your store from people who have shopped in your store and love you!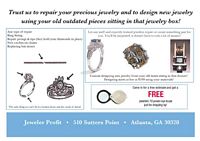 (The pdf file at the bottom of this page shows both sides of this full color postcard)
With the help of www.Postcardpros.com we have designed a postcard that will flood your store with repair and custom design business and keep your work box full. Combined with using the Geller's Blue Book to Jewelry Repair you'll keep the cash register singing!
THE IDEA BEHIND THE CARD
This year what has kept many a jeweler afloat and prospering has been the shop. Repairs for most people has stayed the course and surprisingly many jewelers report custom design is up! Its amazing how a customer won't spend $400 to buy a piece of jewelry but will spend $1000 to make something new, especially from their old gold.
On the front of the card is a promotion for the Swing Guard. Its an inexpensive alternative to adjustable shanks (like Fingermate and SuperFit). Your cost is approximately $25 to $50 for these items. To install you place a notch on either side of the customers shank, solder the tube on it snaps in place on the other notch.
On the backside of the card is the selling of repairs and then of course the selling of custom design promoting the customer to bring in their own jewelry. You'll notice it says "Designing starting as low as $199 using your materials". In our book and when I had our store we had a large selection of stock waxes and would cast and polish a wax with customer's gold for $199, setting and other things were on top of that.
If you want to change the pricing structure Pure Postcards will do that for you. As an example, you may want to say "Custom Design rings starting as low as $400". In our price book thats the labor only to carve, cast & polish a matching shadow band, excluding metal.
The Free Jewelers Eye Loupe is a giveaway to help draw customers into the store. You can buy those from us for as little as $1.40 each. See our products page for ordering information.
The postcard is 6x8.5", color on both sides. Pure Postcards will add your company name and such and make changes as you need, small charge. It will soon be added to their website but you can call now and speak directly to the owner, Irma and she'll get you fixed up.
Pure Postcards will mail them for you. Just email them your customer list and they'll take care of the reset.
Her is the contact information for everyone connected with this wonderful promotion for your shop:
Postcards:
Toll Free: 1.877.446.2434
Hours: 9:00 am – 8:00pm Est.
Swing Guard:
R Findings
(585) 385-6730
Toll Free (800) 422-7624...
www.RFindings.com
Eye Loupes
Renie Geller
JewelerProfit
(888) 255-9848
Local and Canada:
(404) 255-9565
http://www.jewelerprofit.com/Products.html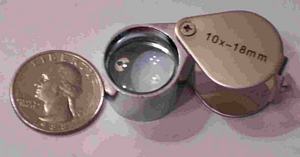 Click on the PDF file link in the middle of the page to see the postcard.
Have a profitable day!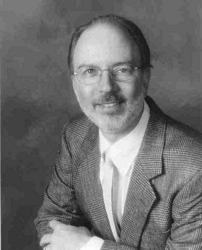 David Geller
Postcard to sell more Repairs & Custom Design
Click filename below to access file