| | |
| --- | --- |
| Price: | $399.00 |
| Availability: | in stock |
| Prod. Code: | 285 |
The Geller book is now in a 3 ring binder so when updates are needed all you have to purchase is the inside pages.
Updated to the new gold & Platinum Prices:
1. Gold at $1500 an ounce
2. Platinum at $900-$1100 an ounce
3. Silver $17 an ounce
4. Rhodium $5000 an ounce
5. Jewelers wages/labor based upon a jeweler being paid $40,000 to
$60,000 a year.
6. A 3 time markup on parts and material.
7. A 4 time markup on labor.
8. Stock numbers included on each page for Stuller
9. New! Many stores are getting even higher prices for ring sizing & custom design. 50% more
than our book so we implemented pages that can be replaced for most of the sizing chapter and
custom design chapter that are 50% higher than the regular suggested prices. Give it a try!
Here's where the 5.0 book Release 6 is different and an advantage:
1. Instead of a spiral bound book (previous versions) all pages are in a 3
ring binder.
2. This allows for the possibility of changing pages. if you want to add or
subtract pages on your own, you can because its a 3 ring binder.
3. Inside the front cover is a handy brass millimeter slide gauge and a solar
power calculator.
Here's what included in the 5.0 kit:
1. Newest price book with 3 ring binder.
2. Calculator and pen (no longer use millimeter gauge. as pictured)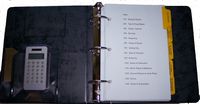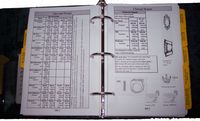 3. 8½x14" two sided full color QuickPick Repair List. Contains 20 of the
most used repairs so you can find them easily and quickly.




4. QuickPick Pricing Counter Mat for take in. Shows customers our "Policy on
Cleaning Your Jewelry" plus 4 sheets of other most used jewelry repairs. Its made so you can
insert your own pricing sheets if you'd like
This pad (shows on this page) gives the
customers three options for cleaning. From an ultrasonic for free, a
quickie buff for $8 and a "Bring it back to factory specs" for $35.00.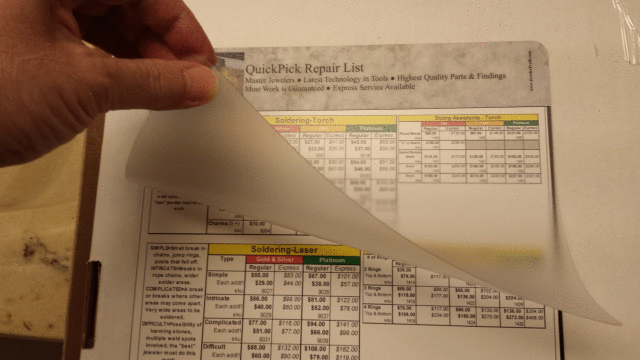 5. NEW! Video Training on the price book on the web. On our home page, bottom left you'll see
"Training Videos". Here David Geller goes PAGE BY PAGE to train the staff and
the store owner/manager. The price book itself is on the screen while David explains
it all. This way the staff can learn this at their own pace, even it home. One you purchase
the Geller's Blue Book you'll be given the password to access it.


One section is for the owner/manager; another section is a tour of the book, page
by page done by David Geller; and the 3rd section trains the staff how to
successfully sell repairs & custom design and how to handle customers
concerns about price.
After you buy the kit, additional copies of the 5.0 book itself is only $85.00 a copy.
The book cannot be bought without the kit if you've never owned the 5.0 kit before.
Once you own the book, any updates/changes to the book are available for $60.00. We will send you a new set of pages to insert into your 3 ring binder.
Stores using our pricing books have found they continue to have a 90% closing ratio on repairs.
What the Geller Book Prices:
Virtually anything that can be fixed or made.




All types of repairs, sizings, shanks, clasps, earrings, engraving, watch repair, appraisals.




Custom Designing with charts for Gold and Platinum casting metal from $800 to $2000 an ounce.




Diamonds and gemstones for repairs and custom designing.




Over 7000 sku's.
So order the book/kit today and see your shop profits increase while still keeping a very high closing ratio on repairs and custom design.
PRICE: $399.00 plus FedEx ground shipping.in the USA
Shipping will be added to your credit card charge. This site doesn't actually charge your card, Renie does, typically $12 to $20 extra.
ADDITIONAL BOOKS are available after owning the kit for only $80.00 each additional book. go back to "Products" and add them on.