The best Return on Investment is almost anything sent out to your customer list, they love you and remember you. Wowcards fit the bill perfectly.
Don't poo-poo direct mail my fellow jeweler. People get less junk mail today because of the internet. That means that there's less competition in their mailbox. These cards stand out and give the offer right there in front. The gift card is perforated and so the credit card size ad pops right off!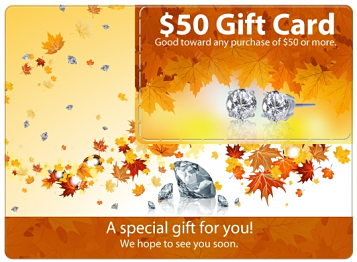 There are big uses for Wowcards:
Direct mail to bring your own more loyal customers, who typically spend more in the store.

With the United States Post Office you can send these cards out to "Every Door Direct" and get new customers in the store.

Send monthly gift cards to customers in your database celebrating birthdays and anniversaries.
HOW IT WORKS
The Wowcards company does this for many industries and they are terrific for jewelers. You go to their website, choose a design for the jewelry industry (or they will gladly custom design one just for your store)
Then upload any logo pictures you might have along with any wording. If you're mailing these and have a customer list just upload that as well and they take care of everything for you. printing, delivery to the post office, effortlessly.
You'll see testimonials on their website of jewelers who did terrific with these. I suggested these on Polygon.net (a jewelers network) last year, several jewelers used them and had huge returns on investment. Something like 10:1 (brought in 10 times the amount in sales than what they spent with this advertising method.
I spoke to a jeweler yesterday who recently spent $9200 sending out Wowcards to his customer list and new people who had never been in the store. Sales exceeded $65,000.
Plan ahead for sure for :
Christmas/Hanukah

Valentines Day

Mothers Day
In addition send them to your Customer list during their birthday month.
So go to their website, look it over and get started now.
David Geller Approved
P.S. I want to add an important footnote about how these cards compare to your internet/webp page/Facebook advertising.
When I send out an email blast I get about a 30% open rate and I'm told thats great! If you send out email blasts you'd be lucky to get a 20-25% open rate. That means people click on your email and actually see the emaik/page with their eyeballs. But that doesn't mean they actually read it.
When you mail these cards you get almost a 100% OPEN RATE! How? Well the customer has to be looking at the plastic colorful card before tossing it in the trash, right?
Also women love to pop the discount part of the card off and save it in their wallet or on the frig with a magnet.
This works.