Shop Advertising-Porte
James Porte Advertising
Finally
Print Media for the Repair/Customer
Appraisal/Engraver Services in Your Store
This has been tough for jewelers to find in the past

Many of you already know James Porte of the Porte Marketing Group, we've been friendly for over 25 years. His services has helped many a jeweler in their marketing and advertising portion of their store. This has always been a stumper for many a jeweler. "How to get more buyers in our store?"
James called me last year and asked
"How can I help your jewelers to bring in more business and make more money?"
For me this was a simple answer to James.
"Easy James, everyone is there to help them advertise products, ad slicks from big name bridal departments and such. But no one is helping advertise the shop and the shop is still a big money maker and draw for many jewelers. Help them. They know how to fix or make it but they aren't real savvy in getting the customers in the door."
So I helped James put together advertising packages for you that will bring more customers into your store and make you more money.
Below are some pictures of what James has done for others and ads I told him you needed to make more money from your shop. After these pictures you can download some PDF files showing you pages of
Marketing brochures

Info booklets to give out, distribute or mail to prospective customers

Postcards and flyers

Gift Cards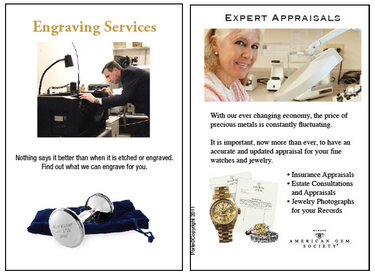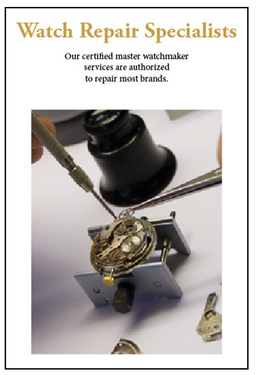 Pictures for advertising has always been tough to find for our industry. You can send to James the jewelry to be photographed (you can trust him) and he'll have them professionally photographed and back to you in a jiffy. But he has tons of pictures in his library you can use.
James has hundreds of images to choose from. For greater personalization you can email him your digital images taken in your store.

Promote your store and your store's services like never before.
Here are some services you may want to include:
Antwerp Buying Services

Arthritic Ring Services (Superfit)

Appraisal Services

Repair Services

Conflict Free Diamonds

Corporate Logo Jewelry

Custom Design Services

Consignment Services

Collateral Loan Services

Engraving Services (Signature Engraving)

Rhodium Plating Services

Laser Welding Services

Gold Buying Services

Special & exclusive diamond cuts

Trade-in & Trade-up Services

While-u-wait repair services

Ring Sizing

Watch Repair

Watch Battery Replacements

Laser Inscription Services

Pearl Restringing

Gem & Diamond Recutting Services

Jewelry Replacement Services
Here's several ways to use James Porte's services to help bring more customers into your store:
In the market place there plenty of jewelers advertising product and branded jewelry. Its a sea of diamonds out there. But when you advertise jewelry repair and ESPECIALLY custom design (big money maker-average sale is $700 to $3000) you stand out. No one else is advertising this hardly at all.
Yes you can use his services to help ad images to your website (everyone has them) but better yet is to hand these out or MAIL DIRECTLY TO CUSTOMERS.
Don't think for a moment direct mail is dead, it's even more viable than before because so many stores have gone to email marketing and social media. Your arsenal of marketing weapons should include direct mail because it still works and there's less competition in the mail box.
Did you know that if you send out an email blast and only 30% of your emails are opened that you're considered a marketing genius! If an email is not opened its not seen.
But in direct mail or hand outs virtually 100% of them are at least seen. They have to handle it just to throw it out. :-)
That doesn't mean 100% read it but if it perks their interest they will.
So go to to the bottom of this page and open up the PDF file that will show you even more advertising/marketing possibilities James can do for you. Repair, custom design, engraving and appraisal services are in need and are a great way to get new customers into your store. Once inside closing ratios for repair customers are 90% (and using our repair price book you'll make a ton of money) and custom design closing ratios are still 70-80%.
So go to the bottom of this page to download a PDF file to see more images and get information how James Porte can help your shop increase its business.
By the way many jewelry store owners ask me "how many jobs a day should my jeweler be doing?"
This happens to be the wrong question. If your jeweler does 20 jobs a day at an average of $35 a job that would be $700 in a day.
If another jeweler only did only 3 jobs a day would you be unhappy? What is that jewelers average job was $400 then total income would be $1200 in a day.
Its not how many envelops are produced its how much money is brought in for one day.
So instead of how many jobs a day you should be asking "how much money should my jeweler produce?"
A bench jeweler employed 40 hours a week should produce between $180,000 to $250,000 a year.
If they are not its because of one or more of the following reasons:
You are not charging the correct fee (this is the #1 reason)

You're jeweler is too slow (a problem less than 15% of the time)

Not enough traffic (a marketing/advertising issue-Let James help you)
You can contact James directly and go to the bottom of this page to find out more:

James S. Porte
Porte Marketing Group
3520 Paddock Rd.
Weston, FL 33331
800-444-6112
954-389-4777
cell: 954-817-3911
email: jporte01@aol.com
www.portemarketing.com
Snuff said!
David Geller
Director of Profit
Branding Your Store-Advertising Services by James Porte
Click filename below to access file